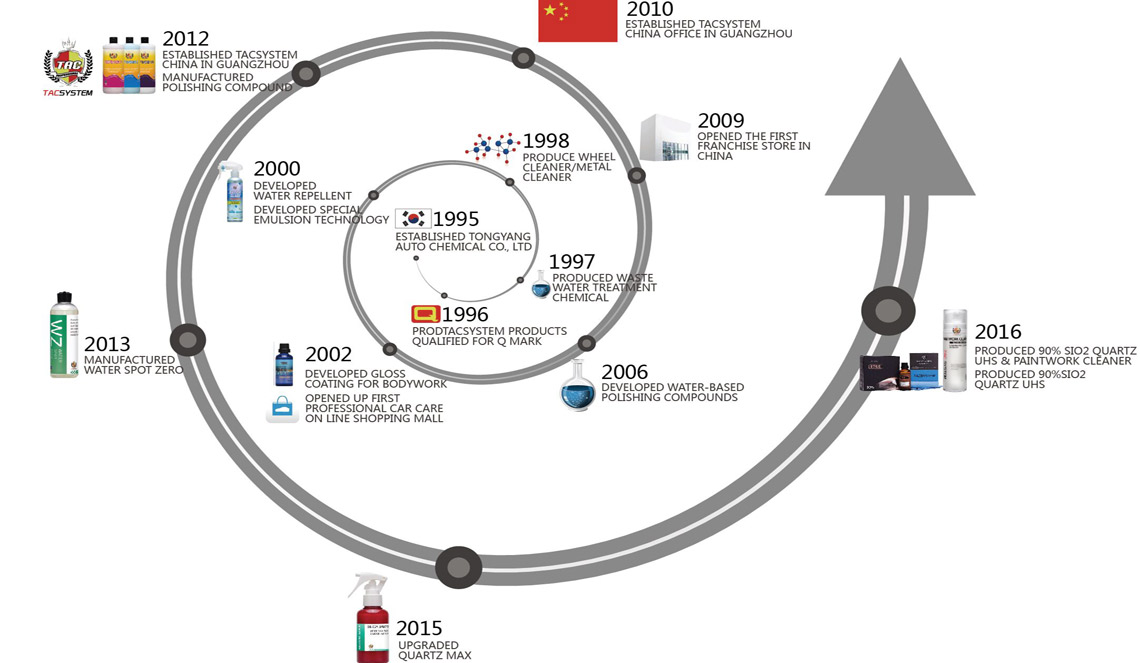 BRAND
► Pro Auto Detailing Supplier
TAC SYSTEM was established in 1995, we are the first brand that both manufactures and supplies car care products to Korean market, in which more than 100 products were authorized and patented
by Korean intellectual Property Office.
► No.1 ranking for on line sales
We initiated our own professional car care products ononline shopping mall in Korea in 2002. Since then, it has expanded to many different countries.
► One of the Global 500 companies
TACSYSTEM is currently distributed in over 50 major countries around the world.
► Approved by government
TACSYSTEM has more than 100 products were authorized and patented by the Korean Intellectual Property Office.
► Environmental Values
TACSYSTEM is dedicated to focus on using environment friendly materials toprotect ourenvironment for the next generation.
Support
Our support consists of Professionalism, technology, Training and Service
Professional,
During past 22 years, TACSYSTEM only focus on developing and producing car care products.
Technology,
TACSYSTEM has more than 1,000 products which are authorized with the CERTIFICATE OF PATENT by the Korean Intellectual Property Office.
Talents,
TACSYSTEM has its training center all over the world, produce many specialists in this field.
Service,
TACSTSTEM focus its attention on products specialization and service concerning standardization.
Package
TACSYSTEM has 5 professional packages to meet the demand of market.
► Quartz Coating (Superb Nanotechnology)
 ► Polishing Compound (Unique Cutting Edge Technology)
 ► Water repellent (Full Penetration Technology)
 ► Cleaner (Superstrong Cleaning)
 ► Car Wax & Interior (Best Maintenance )
Why choose TACSYSTEM ?
1/ About Quart Coating,TACSYSTEM is Korea pioneer in Car paint coating especially the Silica Coating Formula. For the past 23 years,the main objective of TACSYSTEM is"Manufacturing with the highest level of R&D technology in car detailing industry".What makes TACSYSTEM Quartz Coating different is the superb nanotechnology.With the world first-class production technology , the formula has taken 23 years of research and testing to bring the product to where it is today.As is well known,for quartz coating, we can produce from 1% to 100% SiO2 .
2/ About polishing compound,both 1st and 2nd generation polishing compounds were oil-based. However,when most of the manufacturers were still producing 2nd generation compounds, TACSYSTEM has begun to evolve the development of the 3rd generation compound, water-based; The Refinish Series, R1 R2 and R3. These compounds are in the shape of a tetrahedron, from two dimensions will appear a shape of a triangle.With the cutting edge technology ,this innovative design creates a much stronger cutting force then the past generations of the polishing compound. The cutting force of the Refinish series decreases when water dries out during the polishing progress. Refinish series consists of resins, which will wrap around the particles when the water dries out, thus there will not be any marring caused to the surface.
In 2015, TACSYSTEM has instigated an upgrade to our Refinish Series, we have formed yet another revolution to the polishing compound, Refinish Ultra, patented in Korea. It is developed in the shape of a half-moon, which is only 2.2µm in size, and it has a unique aggressive cutting force, yet it allows extreme high gloss in the finishing step. With such size of particles, it can prevent swirl marks creating during the polishing stages and at the same time increases the shininess of the surface.
In 2016,Total One Essential is TACSYSTEM formulated polishing and glazing compound specifically for water based paintwork ,which is only 0.6µm~1µm in size, with our advanced cutting edge technology based on Quartz compounds .What's more, it has a unique aggressive cutting force, yet it allows extreme high gloss in the finishing step.It can produce an extreme gloss finish and remove fine swirl marks and holograms.
3/ We have the world's most powerful water repellent series,which includes Moonlight,Quartz Max,Water Glass and Hydrophobic Top Coat 1.0 .At the same time, we have excellent iron removal formula,which includes Iron Zero, Iron.Zero-Paste and Iron.Zero-Foam .